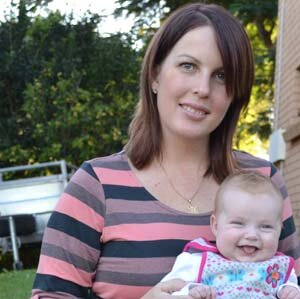 This week Cas caught up with new mumpreneur Sue Kennedy, who's started out a new venture to support other parents through her new business Momami.
Tell us a little about the person behind the business?
I am 37 years young and recently became a first-time mum. I live in Brisbane with my amazing partner of 6 years, my beautiful daughter and 2 dogs. I'm fortunate to have travelled extensively; living in London for 12 months was a highlight. With all of the beautiful places I've visited, there really is no place like home though. I feel we have a very privileged lifestyle in Australia. 
I have come from a lengthy corporate career and the birth of our baby girl in January changed my view on life the instant she was born. I knew I wanted to be able to stay at home with her as much as possible and so Momami materialised.
And now a little about the business itself?
Momami was designed to be a supportive network for mums or dads with no, or limited, support structure. We think of ourselves as "your partners in parenthood." Our business covers most of the essential products and services that help make things a little easier when bringing a newborn home.
We have gift lines suitable for baby showers and birth gifts; special keepsake items, including 3D Hands and Feet Casting and belly casting; a framing service for the newborn photography shoot; short-term baby equipment hire; hospital and nappy bags and maternity/baby packs for hospital; and our key help services – cleaning, cooking, child-minding, anything that mum or dad need help with in order to be able to nurture their new born, themselves and each other.
How did you come up with your business name?
I struggled to find a name to start with as everything I came up with was already taken. I sat down with a doodling pad and started writing down things that mean a great deal to me. I ended up taking the first two letters of each of my daughter and dogs names. MOlly MAddison and Milo and, mixing them around, found a name that worked – Momami. (it also spells I'm a mom, backwards).
What made you want to begin a WAH business and how did you get started?
Very simply, the birth of our little miracle in January this year. We knew instantly that I either didn't work at all or I worked from home on a business that worked around my daughter.
Starting was a little slow going with a newborn, however I just drew up idea boards and figured out what it was I wanted to do. I spoke to a few trusted friends about my concept and had positive feedback so I took a chance and launched into it.
What inspires you to keep your business going?
Every day when I play with my baby girl during the day and am there when she wakes up from her naps. That is my driving force and will often see me working for a few hours at night after she has gone to bed so as not to interfere with those priorities.
Do you have a current best-selling product or service? If yes, tell us about it.
Our best-selling products are our framed Hand and Feet castings, our pre-pack hospital and baby packs, and our designer maternity/nappy bags. Our services are just being readied for launch so we are super excited about the possibilities there.
How do you advertise your business and which methods have proven more successful?
We have only used social media prior to now and lending our support to fundraising ventures which gives exposure to our brand.
How do you juggle your family and your WAH business? Any tips for other WAHPs?
Planning, planning, planning. But, be flexible. My friends and partner think I am a little OCD with lists, but it keeps me focused and on track. It's easy to be distracted and lose your focus working from home, but having a list helps you to quickly return to your aims for the day.
And finally, what advice would you give to anyone wanting to start a WAH business?
Do something you love so you don't have to "work" at it. Above all else-be realistic. You will be able to juggle a child/children, your household and a business as long as your expectations are realistic. If you don't enjoy it, reevaluate.
Do you offer any discounts to Support a WAHP members?
I will offer a 5% discount for any members of Support a WAHP.
Connect